Description
GL840 is Graphtec's newest Multichannel Standalone Data Logger
GL840 Comes Standard with:
WLAN capable using optional* WLAN Unit B-568 for remote monitoring and datalogging
7 inch wide TFT color LCD screen
Three types of power source: AC, DC*, rechargeable battery pack*
Extended memory capacity using SD cards (SDHC compatible up to 32GB*)
Max sampling interval up to 10ms
Expandable up to 200 channels
Access GL100 sensors and adapters
Flexible input system for applications such as RTD, T/C, humidity and more
Smartphone, remote access monitoring 
*Optional accessories not included
***All units include standard manufacturer's certificate for factory calibration***
Two separate GL840 models available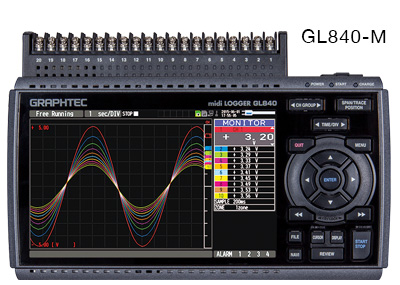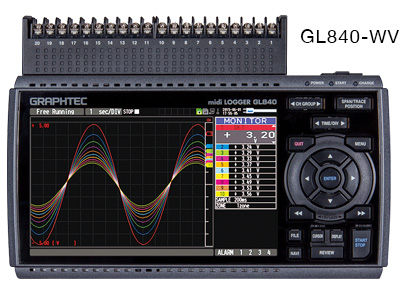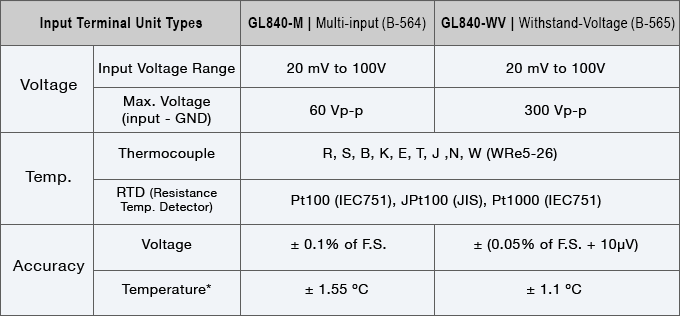 Max Sampling Interval of up to 10ms


GL840 series carries two SD memory card slots
SDHC up to 32 GB supported. Captured data can be stored in GBD (Graphtec Binary Data) or CSV file format.
Capturing time* (when all 20 analog channels are being used with Logic/Pulse inputs turned off).



*Figures are approximate. File size of captured data is 2GB in GBD or CSV file format on this chart. Sampling interval is limited by the number of channels in use (10ms:1ch, 50ms:5ch, 100ms:10ch). Limited sampling speed is available when digital sensors and GL100-WL are used as a remote monitoring device.